I haven't missed a single Raksha Bandhan since I met hubby. This year is no different but I had to do things a little different than previous years.
I've never met my BIL in person. We've spoken on the phone once, over yahoo twice and that's about it I think. We say hello through family conversations. Still, since the first year I was with hubby I've made it a point to always participate in Raksha Bandhan.
For those of you new to the Hindu or Punjabi lifestyle, Raksha Bandha is a holiday where a sister ties a band of protection, called a rakhi around her brothers wrist. As with any holiday, this has expanded through the years to tying rakhi's on brother-in-laws wrist, male friends who are like brothers to you and in some cases nephews, cousins, etc. Just like the American Christmas, it is somewhat over-marketed.
You can read more about the holiday
here
.
Where I live in the US there are virtually no Indian products available. The closest Indian store is an hour away. Closest Indian restaurant is about 30 minutes. There are Indians living on the same road as me and my foster sister just quit working for an Indian-owned local business. But that's about as Indian as this place gets.
I was not going to be deterred. In years past, I've made my own rakhi to send to BIL. This year I'm just so freaking busy and tired I couldn't get it done in time. So I had to figure out an alternative. I got lucky.
Hallmark Hoops & Yoyo
had a cute musical card that almost fit the holiday perfectly.
I was for any random day but it came with a bracelet and the song they sang said "if you can't remember just look at your wrist" as if the bracelet was there as a reminder. It was pretty close to the theme. I then added a personal letter to BIL with my wishes for his upcoming year and a brief explanation of why I didn't hand make the card and bracelet.
I hope you all are enjoying your Raksha Bandhan this year. Celebrate the relationships you have and nourish each and every one. I feel fortunate to have a BIL and brother that I can share the holiday with. (My brother is a Hare Krishna.)
Rakshan Bandhan Cards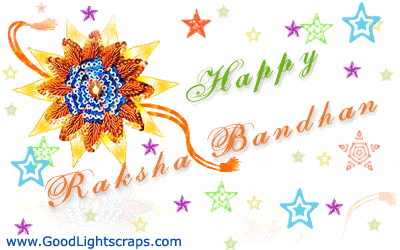 Free Greetings